Spirit In The House! is a 501(c)(3) organization and donations are tax deductible: SPIRIT IN THE HOUSE INC at Razoo.
Many thanks to those who have made our work so far possible: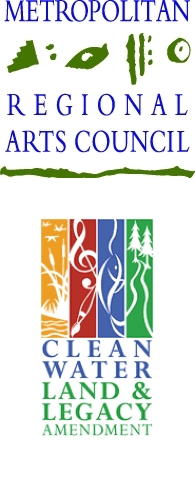 The Metropolitan Regional Arts Council
These activities funded, in part, by the Minnesota Arts and Cultural Heritage Fund as appropriated by the Minnesota State Legislature with money from the vote of the people of Minnesota on November 4, 2008.
In Kind Donations
CURRENT SUPPORT
Alan & Marilyn Youel

Ann Galloway-Egge

Ann Suplee

Avis E. Tilden

Barbara Mauk

Barbara Reid & Christopher Meadows III

Ben Krywosz

Carol Zaagsma

Catherine & Jeffrey Veigel

David & Lorene Liddle

David Harris

David Nyberg

David S. Telschow

Dawn & Chris Baddeley

Dayna Wolhart

Debra C Wilkinson

Don & Mary Anne Bennett

Donneen K. McKay

Duke "Mentor" Addicks

Elisabeth & John Heefner

Elizabeth D. Stockton

Eric Adams

Eric La Mott

Gail Anderson

Jane Marie Petty

Janis Marie Clay

Jeremiah & Vanessa Gamble

Jerry & Suzanne Gomis

Jevne Kloeber

Johnathan Hamlow

Loren Niemi

Margaret McVay

Louise Pardee

Max and Martha Maguire

Lynn Warfel

Nan & John Kari

Patricia Moore

Rebecca J Nesse

Rev. Christine Kliesen Wehrman

Rev. Dr. David Breeden

Rev. Dr. Margaret McCray

Rev. Dr. Stephen Robertson and Susan Peacock

Rev. Dr. Timothy D. Hart-Andersen & Rev. Beth Hart-Andersen

Ruth H. Kahn

Scott & Lisa Emkovik

Shirley Engelmeier

Stephen & Vicki O'Toole

Steven Carlsen & Annmarie Lopiccolo-Carlsen

Susan Goodspeed

Susan McKenna

Theresa Zingery

Thomas & Marillyn Soulen

Valerie & Jeff Bartl
PAST SUPPORT
Alan Touchberry, Amy Wick Moore, Anne Brink, Ann Suplee, Arnie Roos, Arthur Tredwell, Asad Zaman, Becca Fletcher, Beth Ann Schumacher, Beth Gilleland, Bethany Gladhill, Betty Folliard, Bryan Olson, Carla Wobschall, Carol McCormick-Buchmeier,  Catherine Roach, Catie Chi-Olson, Charles Cree, Charlie Curry, Chris Ducharme, Chris Eilers, Chris Smith, Christopher Morton, Chuck Wait, Cindi Beth Johnson, Clark Young, Craig Hergert, Dane Stauffer, Daniel Franklin III, Daniel Schultz, Dave Wise, David & Ann Braden, David & Catherine Smith, David & Diana Biebighauser,  David Smyrk, Debra A. Ost, Deirdre Hinz, Denise Dunbar Perkins, Diana Barber, Donald & Brenda, Donald Genereux, Doris Wong & Jeffrey Winterer, Dottie Mathews,  Dwight Wagenius, Edith Gibson, Edwin and Katherine Martin, Eleazar Fernandez, Elizabeth O'Sullivan, Emily Roehl, Eugene & Valerie Fotso, Eugene Cha, Ford & Amy Bell, Fr. Erich Rutten, Fred Nabeta, Frederick & Elaine Dietrich, Gayle Tucker, Gregg Peterson, Gretchen Milloy, Gretchen Musicant, Hanna Barker, Heather McGinty, Heidi Arneson, Herb Perkins, Holly Davis, Howard Lieberman, Ira Gordon, Jacqueline Devries & Tim Jones, James & Carmen Campbell, James and Cheryl Ullyot, James Lewis, James Nutt, Jane Johnson, Janet Preus, Jane Voigts, Jann Cather Weaver,  Jason Wahlstrom, Jean O'Bresky, Jean Trumbauer, Jeanne Bain, Jeff & Amy Hill, Jeff & Heather Gallenbeck, Jeffrey & Anna Brooks, Jeffrey & Dianne Dick,  Jennifer Miles, Jim & Donna Peter, Joanne Christ,  Jock and Sara Donaldson, John Bauer, John Chell, John Greenwald,  John H. & Maxine B. Sinclair, John Work, Joseph and Laura King, Josh Melgaard, Julie Brown, Julie Simpson, Karen Gasche, Karen Krolak, Kari Logan, Kathie Failer, Kathleen Remund, Kathryn Nichols, Kathy Baughman, Katy Headbloom, Kay Kirscht, Kelli Clement, Ken Huskins & Ruth Lane, Kiely Todd Roska, Kimberly Vrudny, Kim Crawford, Kris Jensen, Larry & Katherine Youngblood, Larry Kuusisto, Laura Littleford, Laura Soler, Lawrence Siegel, Lennie Major, Linda Decker, Lisa Dodd, Louis E. Kahn & Ruth H. Carlsen Kahn, Lyn Burton, M.J. Anderson, Marcia Lewis, Marcie Rendon, Margaree Levy, Margot Drake,  Marilyn Baldwin, Marilyn Salmon, Martha Postlethwaite, Martha Rockenstein, Martin Erickson, Mary & Dean Ramos, Mary Allette Davis, Mary True, Matthew Vaky, Meghan Gage, Mel Williams, Melanie McCall, Michelle Turnau, Mike Owens, Nancy Engh,  Nancy Hau, Natalie Novacek, Nile Harper, Ochen Kaylen & Leslie Ball, Owais Bayunus, Pam Wynn, Patricia Milloy, Patricia Van Pilsum, Patti Mogren, Paul Jacobs, Paul Capetz, Paul Strickland, Paul Wilson, Paula Nancarrow, Paula Sanders, Peter & Sandy Cochrane, Peter Bodurtha, Phillip Brown & Faith Ralston, Rabbi Barry Cytron,  Renee Flesner, Rev. Kristin Maier, Robert Eichinger, Robert White, Rodney Schwartz, Ruth Lunceford, Sharon Tan,  Shirley Koepsell, Stephen Law, Steven McMichael, Sue Johnson, Sue Petzel, Sue Swanson, Susan Dray & David Seigel, Susan Ebbers, Susan L. Swanson, Susan Zdon, T. Mychael Rambo, Tammy Rider, Dr. Terence Nichols, Tom & Priscilla Northenscold, Vicki Jens-Page, Victoria Wilgocki, Walter & Jodell Rockenstein, and Warren & Marian Hoffman.
We are so very grateful!